In the beginning... Brian, Mark, Cale, and Annie
Tracks #11 is officially here! In an effort to get it out before I left town for a few days, some stories never made it through the proof reading department be gentle. I have made a few edits up on my return. As promised on the home page here is a little history on the team and the tracks.
Early in the spring of 2001, Mark Flynn, Dan Brunsell, Brian Holdsworth and I became acquainted through mutual trails and mutual interests. Mark, Brian and Dan had been friends and riding buddies for awhile. All residents of Lindsborg they had great plans for our local training hill. Coronado Heights north of Lindsborg had some fun trails but very limited. Their ties with the scouting community through sons and leadership roles provided them with several willing trailblazers. The trail expansion was under way, and with the help of Troop 120 we became the forefathers of Team LATR before there was such a thing.
One day as I was heading out to ride some trails at K-lake with a few friends, a determined looking young lady rolled into the parking lot on her Trek. New to the trails I convinced her to join our group. After about 6 miles of tough upper canyon technicals, deep sand, and short climbs my male companions had turned back for one reason or another. The new rider was still dogging my trail. We turned back about mile 7 before the unexpected long distance expended her water supply.
At the trailhead after the ride I visited with this impressive young lady. We talked about adventure races and cross country events around the area. I learned this she was from Chanute and attending Bethany College in Lindsborg. She expressed interest in riding with others and even getting on some local race team. We both had a little blood on our lower legs from the brush and rock canyons. I explained to her that the group I rode with had the motto "It's not a complete ride till somebody bleeds". She smiled and that's when Annie Hutson became the fifth forefather, or should that be fifthfather of the as yet unborn team.
As I was driving home from that ride the wheels started turning. Yes I know it is obvious that the wheels were turning if I was driving. I meant in my head. A few phone calls to my new friends in Lindsborg and plans were made to attend a race at Lawrence's river trails as a team effort. Brian's son Cale joined the group becoming the team's sixthfather. At our first River Trails Race the determination of all in the group to finish the race one way or another, sooner or later, and the fact that we were all Lindsborg Area Team Racers, resulted in the christening of Team LATR! Sprad Tracks was first published on July 4th 2001 to report the news of the great event to all 6 members of the new team!
Time has passed, Coronado's small trail system has become a short but intense training trail. Known as the double/double this 3 mile, 60% singletrack course will test your skills and conditioning. The team has added and lost members over the past year. Annie has gotten busy with the life of a young ambitious person. The rest participate as life allows. Tom and Brad Ames joined us for awhile. They contributed to the trails and some race results before being transferred to McConnell AFB. Tom was a B-1 bomber pilot and for a short time our team boasted the strongest air cover of any.
The team added a few next generation riders when Mark's daughter Emma (Speedy M) joined the group. Eric L. Peterson joined in '02 bringing a couple fast kids race competitors with him in his two sons. The team branched out to satellite offices in Osborne and Pittsburg as new rider 15 year old Josh Davison came on board, and dislocated friend of the Lindsborg riders, Don Sotta bought a set of fat tires from his local bike shop.
Lindsborg teen, Ben Carlson has been associated with team members for sometime though scouting. He has recently made the move to team racer with a couple good rides.
Lindsborg riders join up with some fast two wheelers from the Great Bend area, for a sort of West/Central Kansas racing coalition. Sprad Tracks has grown to support and entertain us all. Tracks Online will hopefully make it easier to share information, entertainment, and adventure stories with a larger group of riders. I want to try to keep this interesting for everyone to read so please feel free to send in your comments, stories, or complaints. The rest of the eleventh publication of Sprad Tracks follows, enjoy T~
After Clinton's Ooze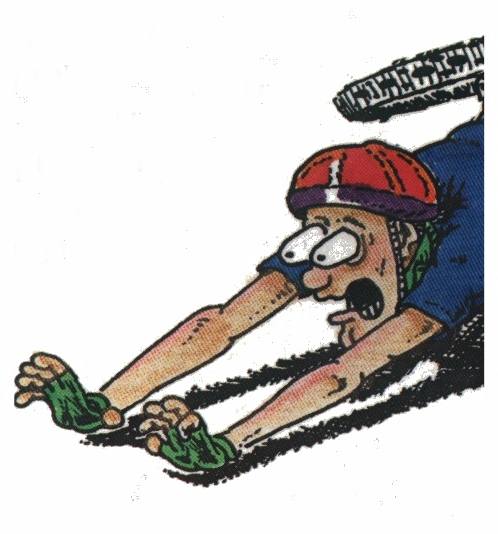 The printer friendly version of Tracks #11 has been acting up for some reason. I fix it and then Josh breaks it, I fix it again and Josh breaks it again so I'm not gonna fix it no more. If you would like a printable newsletter, contact me and I will e-mail it to you.
Just kidding Josh thanks for making me aware of the problem.